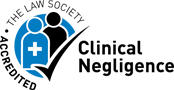 As a firm, we are absolutely committed to excellence and our personal injury team is no exception to this. As a result, therefore, we are really happy to announce that the head of our personal injury department has just been reappointed to the Clinical Negligence Accreditation Panel run by the Law Society itself.
Denise Broomfield, a specialist medical negligence solicitor, will now be a member of the panel until 2017 – this is a particularly specialist panel – out of more than 100,000 solicitors nationwide, only just over 300 of them are members of this Clinical Negligence [or medical negligence as it is more often known] Accreditation Scheme. According to the Law Society, the panel is recognition of specialist and excellent skills, knowledge and practice in the area of medical negligence compensation claims.
Denise covers a wide variety of medical negligence work – including birth injuries, hip replacement compensation claims, GP errors, surgical mistakes and compensation claims that result from cancer misdiagnosis.
In addition, Denise is also on the equally specialist medical negligence accreditation panel run by AvMA -the nationwide charity, Action Against Medical Accidents. In addition, one of our personal injury solicitors who specialises in accident claims which don't involve medical negligence, Anthony Pownall, is also a member of the Law Society Personal Injury Panel.